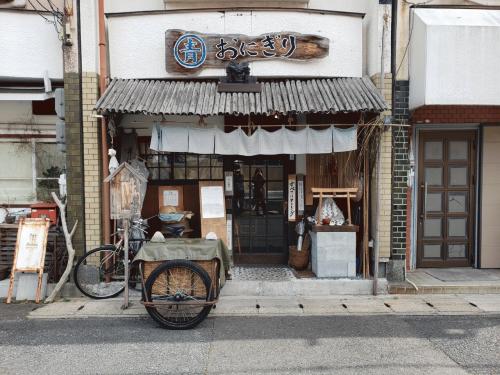 First of all, "onigiri", translated as rice ball, is a crust of rice formed into triangle or a ball with some fillings inside, sometimes wrapped with dried seaweed.
Onigiri is one of the top familiar food to Japanese in all generation.
We all have childhood-memories bringing them on a picnic or a school trip, and is sold everywhere at all convenience store in Japan.
If you come to Japan, you definitely should try at least one to experience the food culture we have here in Japan.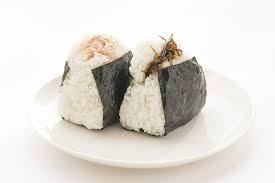 At Ao-onigiri, you order two, or more, onigiri with your favorite ingredients of your choice and it comes with miso-soup, Japanese egg-omlet, pickles,etc. (You can choose the side menu you want from the five set written on the list)
The most popular fillings for onigiri are 鮭 (salmon), すっぱい梅 (sour pickled plum), たらこ (spicy cod roe), おかか (bonito flakes) and but there're few unique ones like キーマカレー (curry), じゃこマヨネーズ (dried young sardines + mayo) and のりワサビ (dried seaweed and wasabi).
There are over 20 fillings and these are just some part of the whole menu.
As you decide, write your order on the paper in front and hand it in on the counter.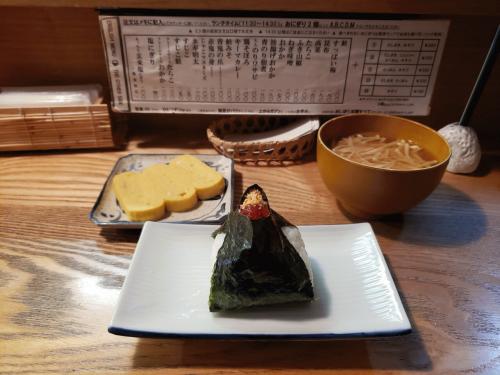 I ordered すじこ鮭 (salmon (roe + grilled)) and ふき山椒 (butterbur + Japanese pepper) with A set (Japanese egg omlet and miso soup).
The owner serves the rice balls one by one.
Just take one photo and bite into your freshly made onigiri as soon as it is served!
You'll surely be surprised by the fluffy kettle-cooked rice and the deliciousness of the fillings.
The ingredient is nicely filled from the top to its inside that you can enjoy your onigiri till your last bite!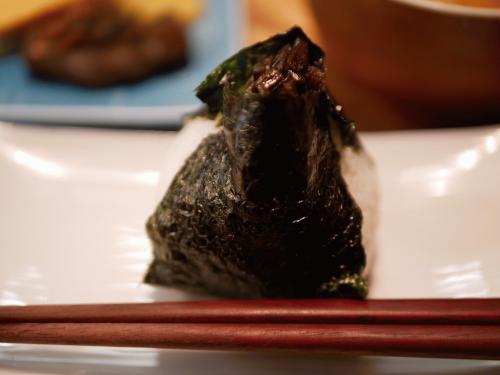 At Ao-onigiri they also sell onigiri for take away.
If you order more than three (over 500 yen), the owner wraps them for you in a bamboo leaf.
If you're thinking about picking them up for lunch, I recommend you to make a call beforehand as the owner do all the work by himself.
Here's
the link for their homepage!
Get delicious onigiri at Ao-onigiri and go for a little picnic at Kamo river or the Imperial Garden!