24H RENTALS WITH 1 DAY PRICE!
Rent anytime you want!*1 Return anytime!*2 You can leave your lagguage and take your luggage 24h, we can deliver your luggage to your hotel!*3 *1 You need reservations *2 Return in time is free *3 Delivering fee is needed
Rental bicycle Fuune always consider about what is the best service for the customers!
FUUNE IS HERE!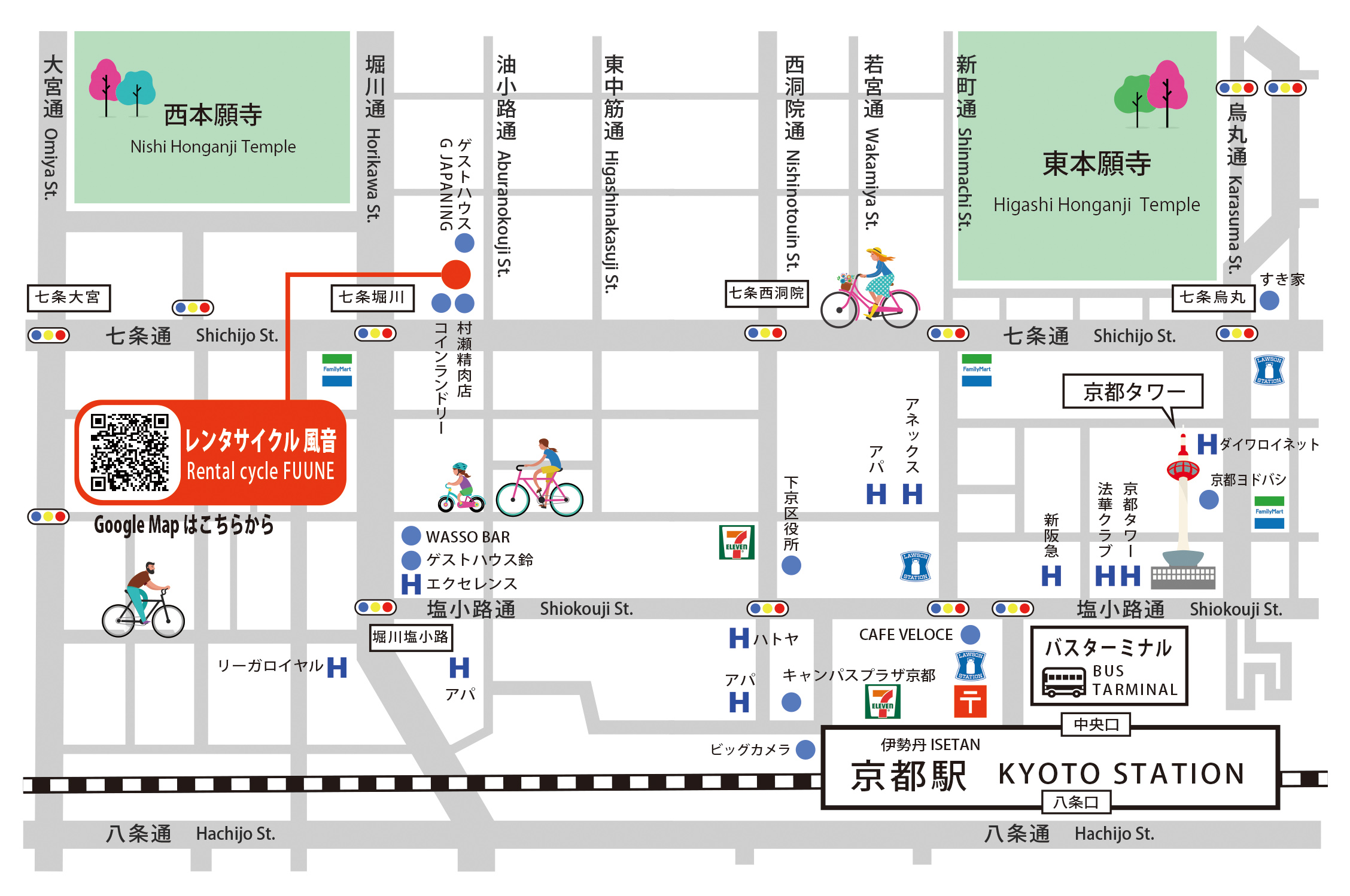 WITH 1 DAY-PRICE, YOU CAN USE THE BIKE FOR
24 HOURS AT LONGEST.
IT IS VERY CONVENIENT THAT YOU CAN

RETURN THE BIKE ANYTIME!!
You can use bikes for 24 hours at longest with one day price.
*Except the busy season and when bikes are reserved for the next day.
The busy season is about the beginning of May and 3rd and 4th weekends of November.
Please ask us about the detail.

Delivery and pick-up services are available.


We deliver the bikes and pick up the bikes at your hotels or other places.
The services are not available in the busy season.
Fee: 1 bike 800 yen
   Add 1 bike 300 yen
ex) Deliver 4 bikes
  800yen + 300yen + 300yen + 300yen


  

= 1700yen
*Please ask about delivery services in advance.
*Tandem bikes are needed to reserve.

Please check if the delivery is available or not.
We transport your luggage to your hotels by 18:00.(500yen / luggage)
Please see the area where the services are available.
You can use safe lockers in our shop for free.
(You can use the safe lockers even early in the morning and late at night, but please keep your valuables.)

Pick-up Service are available! (additional fee)
If you can not come back by bike due to the unexpected bad weather, we will go to your place to pick up the bike.
(Please contact us in this case.)
Reception hour is from 9:00 to 16:00.
(Please contact us through email or by phone from 16:00 to 18:00.)
FREE MAP!(JAPANESE OR ENGLISH)

BACKPACK RENTAL IS FREE!