Hanatouro is an illumination held for 10 days in Kyoto twice an year; at Arashiyama in winter, and at Higashiyama in spring.
The road is decorated with thousands of colorful little lanterns and the atmospheric vibes of Kyoto's traditional roads gets even more quaint.
This year, Higashiyama Hanatouro is going to be held from March 6th to 15th.
It's surely gonna be one of the best memories that you will make here in Kyoto.
During this period, Kiyomizu Temple will be specially opened till 9:30pm and visitors will be able to enjoy the temple lighten up.
There's only three times an year for this night visit so if you are coming to Kyoto while Hanatoro is held, do not miss this chance!
Go visit the official website of Kiyomizu Temple to see the beautiful photos during the light up! (Link below↓)
[Information]
Opening dates: March 6th - 15th, 27th - April 5th
Opening hours: The gate will be closed at 9:30pm
Admission fee: 400 yen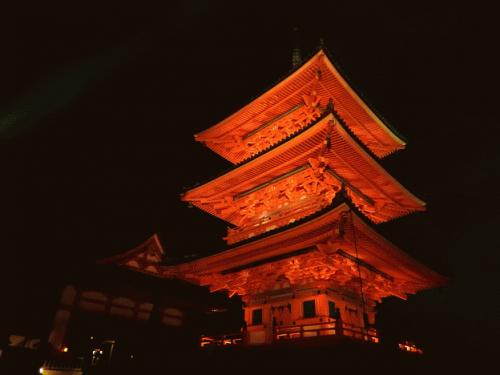 Here at Fuune, we accept bicycle returns for 24 hours, so you can come back to return your bikes anytime you want!
No worries if you are going out for sightseeing till late. Enjoy exploring Kyoto with our bike and make the best of your day!
For those of you want some information regarding parking around Kiyomizu temple,
here's another blog
for you to check out!
We are looking forward for your visit!