1-day parking pass
"1-day parking pass" is a ticket that you can use at 9 parking lot in Kyoto.
If you are thinking of visiting more than two places from the list below on a same day, we recommend you to purchase this ticket.
The ticket is 200yen, and is valid only for the day that is issued.
Where to use it?
The nine parking lot you can use the pass is;
①Kiyomizu-dera Temple
②Arashiyama
③Ginkaku-ji (Silver Temple)
④Okazaki park (Heian-jingu shrine)
⑤Nijo-jo Castle
⑥Takao
⑦Misayama
⑧Tominokoji-rokkaku
⑨Ponto-cho
(The pass is only issued at ①‐⑤. ⑥ exclusively issues the pass in November.)
Below, we'll show you how you can use the pass at Kiyomizu-zaka parking lot for customers thinking about going to Higashiyama area by bicycle.
This area is among the most popular sightseeing spot in Kyoto and is a must-go-place for people who want to enjoy traditional Japanese landscapes and atmosphere!
Where is the location?
Kiyomizuzaka parking lot is located at the Gojo-zaka hill (五条坂).
(The one with the red pin on the map below)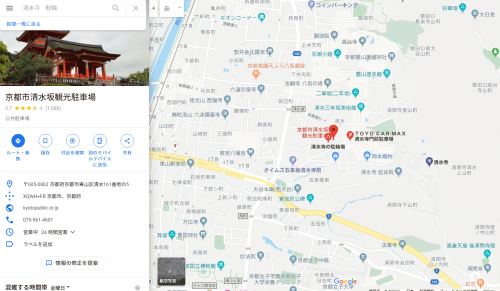 How to use & buy 1-day parking pass at Kiyiomizu-zaka parking lot
There's a parking space for bicycle on the left side if you enter the parking lot so park your bicycle there as usual.
When you leave, use the automated machine and pay 200 yen to unlock the key.
Here, make sure to issue the receipt, and take it to the office located near the entrance of the parking area.
Show it to the staff. They will exchange it with the 1-day parking pass.
For those who already purchase the pass, go to the office before you pay the fee, and show the pass to the staff.
Below is a photo of the machine and the office.
During the day-time, the office is open and there will be a staff to help you.