Murasakino area, located on the north side of Kyoto city, is one of the famous sightseeing spots among Japanese as there're several temples and shrines to visit.
Though it is not famous as much as other popular places among foreigners, it is highly recommended even just to enjoy walking around the area and it is easy to access by bicycle after visiting Kitano Tenmangu Shrine or the Golden Temple.
It is also highly recommended for those who've already visited all the major sightseeing spots in Kyoto and are willing to explore some new places.
Here are some of the recommendations of what to do and where to visit around Murasakino area!
1. Imamiya Shrine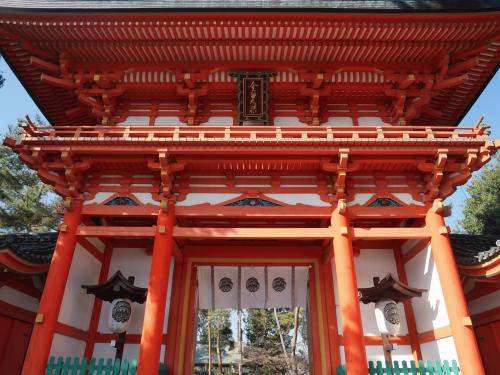 Imamiya Shrine is well known for god of good fortune and relationship and also referred as "Tama-no-koshi (Mary into the purple) shrine".
Its nickname has been taken after Tama, who was born around the area as a daughter of greengrocer, but had married to the 3rd Shogun (general) Tokugawa Iemitsu.
If you visit Imamiya Shrine, do not forget to see the "Kami-Uchi Ishi" (God fortune-telling rock) !
It is one of the famous power spots in Kyoto to forecast your future luck.
First, lift up the stone after patting it three times.
Next, make a wish stroking it three times and lift it up again.
It is told that the wish you made will come true if the weight of the stone had changed lighter than the first time.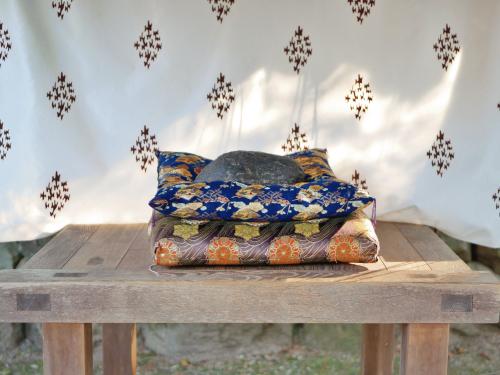 2. Aburi Mochi
Near the gate of Imamiya Shrine, there are two shops of Aburi Mochi.
Aburi Mochi directly means "roasted rice cake" and is a one bite size rice cake covered in sweet white soybean paste after roasting it with charcoal fire.
The price is 500 yen per 11 sticks of Aburi Mochi and comes with hot Japanese green tea.
It's the best way to take a nice take a break after sightseeing enjoying Aburi Mochi and the good weather!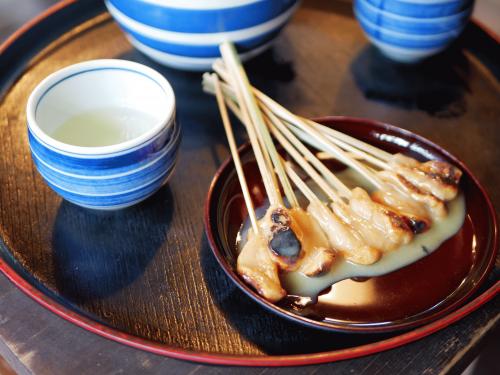 3. Daitoku Temple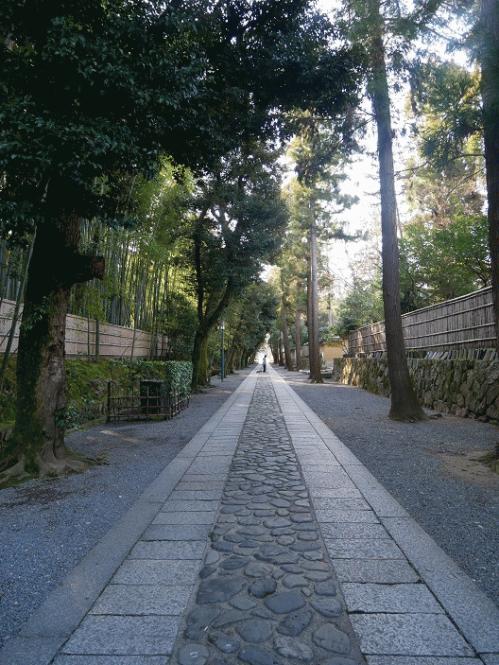 Daitoku Temple is one of the biggest Zen Temple in Japan and has 22 of sub-temples.
The roads are paved with stone and it is so refreshing just to walk around the precinct as there are bunch of trees of camellia and pines grown.
Entrance of four sub-temples; Koto-in, Ryugen-in, Zuiho-in, Daisen-in, are allowed throughout the year, and some other sub-temples exclusively opens in specific season of the year.
My personal recommendation is Koto-in.
Bamboo and maple trees are planted both side of the stone pavement inside, and enjoy your time sitting by the green and relaxing in its quiet atmosphere.
The admission fee is 400 yen and you can enjoy having Japanese confection and green tea with additional 400 yen.
Here
is another site for more photos of Koto-in.
There's more places aroung the Murasakino area to visit such as Kenkun Shrine and Funaoka mountain park.
Nishisjin area near from Murasakino also has bunch of cafes and restaurant to have good food and good rest.
Murasakino is bit far to go from Kyoto station so we recommend you to use the electric-assisted bicycle.
It is about 45 minutes ride by bicycle.
Kyoto's getting much warmer and the weather is great recently to enjoy sightseeing by bicycle!
We are looking forward seeing more customers here at Fuune!