Have you ever tried Hot spring in Japan??
In Japan Hot spring (Onsen) is one our favorite places to visit in daily life or special occasions.
Most of the people visit Ryokan (Japanese style hotel) to hot spring but this is mainly for the customers who stay at the ryokan.
Locals in Japan go to Sento (銭湯) to enjoy the hot spring except from going to ryokan.
Why people go to Sento?
Sento is a place you enjoy the hot spring. Ryokan is a place you stay and enjoy the food, service (omotenashi) and the room.
You can not stay at the Sento so normally local people use it as there daily baths.
Today I would like to introduce Funaoka-onsen (船岡温泉) which exist from the Taishou period (about 100 years ago).
You can visit with bicycle and it is near from Kinkaku-ji (Golden temple). Funaoka -onsen is country registered tangible cultural property.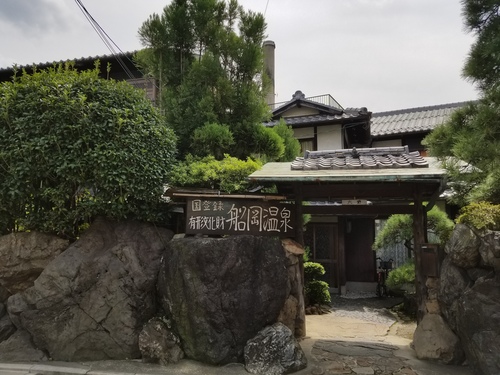 This is where you change, the wall is covered by wood carvings and also on the ceiling too.
Wood carved Tengu ( a type of legendary creature used to live in the Kurama (kyoto) )
This is how the hot spring looks like inside.
Rules at the hot spring in Japan.
1. Before you go inside the bath tub, please wash your body first
2. Do not put towels inside the bath tub, put them on the side or on your head.
3. lastly do not swim in the bath tub.
Usually it is hard to find tattoo friendly hot spring in Japan, but at Funaoka-onsen you can enter with your tattoo.
If you are finding tattoo friendly hot spring in Japan, here is a good site to see.
The tiles on the walls are looking nostalgic and pretty,
if you have chance to go to the Funaoka-onsen you will enjoy a little bit of how Taishou era was like.
Hours: Mon~Sat 15:00~25:00
Fee: Adult 430yen
Child 150yen (elementary school)
Under elementary school: 60 yen