Hi, there.
It is still very hot here in Kyoto.
The summer holidays called "Obon Yasumi" was over, and many working prople got back to their work.
Even children will go back to their school lives soon.
Just before "Obon Yasumi", I joined a seminar to know about Tandem Bike more.
The seminar was hold by " Kyoto Cycling Association" and " Kyuoto Disabled Sports Center".
About 15 people including some visually handicapped persons joined the seminar.
First, I learned the basic traffic rules of Tandem Bike and how to help the visually handicapped persons as a "pilot".
( This "pilot" means a person who ride on the front seat of Tandem Bike. Only this "pilot" operates the handle.)
One of the good points of Tandem Bike is that the pilot can lead the person in the back.
Only the pilot operates the handle, so even persons who can not ride on the regular bikes enjoy cycling together.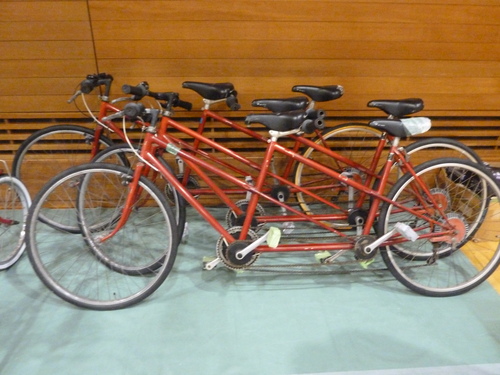 After the lecture, we make pairs and started to ride on the Tandem Bikes.
I ride on the Tandem Bike with someone whose name I don't know, but we natrally started our conversation on the bike.
I said to the person in my back when I turn as a pilot, and follwed the pilot as a person in the back.
After we finished cycling around the truck, I found it fun to ride on one bike even with someone I first met.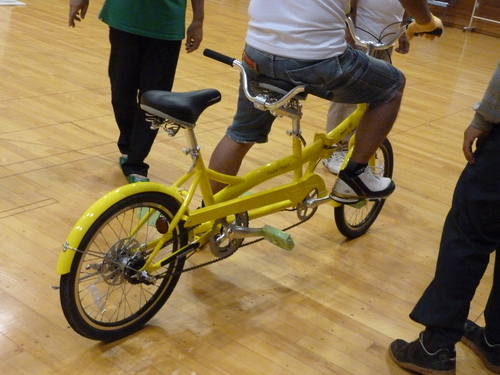 Especially, if it is the one you like, the journy must be very vey fun.  
I am sure that you enjoy cycling with talking together, seeing the same scenery, and feeling the same breeze!!
This is so wonderful and makes your journy so memorial and unforgettable.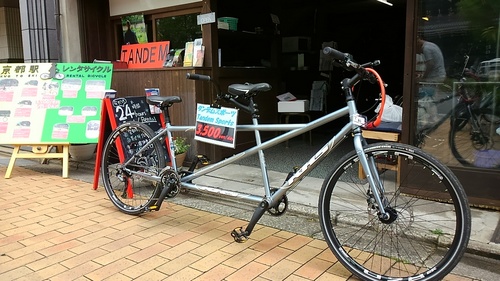 This is our Tandem Bike. It is sports type and so comfortable.
We really recommend this Tandem Bike to make your journy much more wonderful ☺!!!
Thank you.
PS. In Kyoto, you can park the Tandem Bike at normal parking lots, though there are some exceptions.